Finding a Spiritual Community in Peterborough, Lindsay or On Campus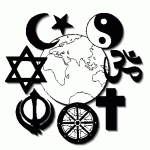 The Diversity & Inclusion Office is here to welcome you to and help you connect with local community, including faith/spiritual groups. Several groups have clubs and activities on campus, including Catholic, Indigenous, Muslim and Sikh student associations or meeting spaces, and individuals can access the Quiet Reflection Rooms. A directory of local faith/spirituality groups is below. If you need any assistance connecting with a group, contact diversity@flemingcollege.ca
Quiet Reflection Rooms

Fleming College offers students a quiet space dedicated to the expression of faith and personal reflection. Students are welcome to use the room during normal campus hours of operation. Prayer mats and religious texts are available, as well as ablution stations (washing sinks, Peterborough campus only). Students are asked to respect others using the space and remove their footwear upon entering.
Sutherland Location:  C2 121 (between the Registrar's Office and the Cafeteria, seen above)
Frost Location: Frost Student Association, Quiet Room
Information: diversity@flemingcollege.ca
Indigenous Cultural Spaces 
Indigenous Student Services provides spiritual services to indigenous students, such as:
Visiting Elders program
Access to Ceremony
Culturally safe spaces including an Indigenous Student Lounge & Tipi on both Peterborough and Lindsay campuses
The College is smudge friendly, and you may smudge in the Indigenous Student Lounge at any time. If you are smudging elsewhere, please let us know in advance so we may notify those who could be negatively affected due to allergies.
Indigenous Student Lounges are located in:
Room B2 299 at the Sutherland Campus
Room 180A at the Frost Campus
Directory of local faith & spirituality groups
Looking for a spiritual community? You will find a complete listing of area churches, mosques, synagogues, and religious associations at the links below:
Directory Peterborough area Faith Groups
Directory Lindsay Faith Groups
Spiritual Care with Ale Suarez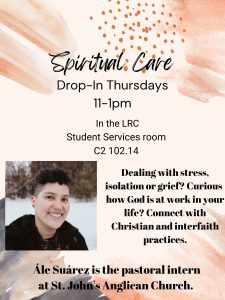 Fleming College Catholics
Father John Perdue is leaving his role as chaplain and will be replaced by Father Neal. Catholic chaplaincy services will resume in September at Sutherland campus.