Released December 8, 2017
Physical Resources will be conducting important work for the A-Wing Construction Site at Sutherland campus on Tuesday, December 12, 2017.
General Information & Service Interruptions
Steelcore Construction will have a crane onsite Tuesday, December 12, 2017 to install structural beams on A3 and the Clerestory structure on the roof,
The crane will be set up on the sidewalk and roadway near the main entrance, in front of the old purchasing dock location which will affect the traffic circle and sidewalk,
Pedestrian and vehicular traffic through this area will be rerouted through the 10 minute and accessible parking area. Barricades will be put in place to provide a temporary walkway and a portion of the traffic circle by the main entrance will be closed.
There will be flatbed truck traffic in this area for steel delivery,
Movement inside A2 and A3 will be impacted. The area will be restricted to only immediate personnel involved, with eight foot barricades erected on A2 and a tarp hung for separation from the work,
The temperature will be temporarily impacted in the interior of A2 and A3 during the process,
The work will be in progress for the full day,
For more information on this work, check out the Physical Resources Department's v-blog on our YouTube channel: https://www.youtube.com/watch?v=U1-M4wlC8LE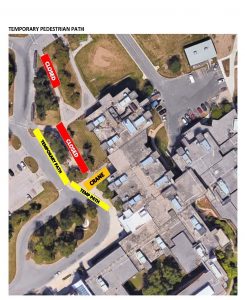 Released Jan 19, 2016
We are pleased to announce that the Facilities Department has changed its name to Physical Resources effective immediately. This new identity is a better reflection of our services relating to the physical environment which include:
• Campus operations
• Emergency planning and safety
• Housekeeping/care-taking
• Occupational health & safety
• Legislative compliance
• Environmental protection and compliance
• Security services
• Parking services
• Space planning
• Capital projects
• Energy conservation and management
• Property management
• Move management
In addition to our name change, we are excited to announce a departmental realignment that will improve our ability to maximize efficiencies while delivering more consistent service College wide. Highlights of the realignment are:
• Information kiosks will be the forward face of the department
• All HVAC/electrical/plumbing support staff will service multiple campuses
• Re-alignment of managers to field specialties, College wide
• Operational support staff will service multiple campuses
• Increase sharing of College resources
• Introduce product and service standards across campuses
• Web pages will be more dynamic and informative
The operational changes will be implemented starting February 1 and will be completed by April 1. Additional communications with specific service enhancements will follow over the next several weeks.
Please contact any one of our team members if further information is required.