Do NOT use a VDI session for live video or audio meeting/webinar/VoIP tools such as: Webex, Jabber, Microsoft Teams Meetings and similar. To ensure an optimal meeting experience install and use these types of application directly on your local PC.
What is Webex?
Cisco Webex is a suite of real time collaboration applications. With Webex you can screen share, video conference, share documents, whiteboard, chat and more.
Who can use Webex?
Webex is available to all Fleming students & staff.
What's New with Webex
Closed Captioning: Live closed captioning is now available to all staff upon request.  Email itsupport@flemingcollege.ca to request activation of the Webex Assistant feature on your account.  In the future this feature will be enabled for all staff by default.  (Note: The meeting host must enable live closed captioning for each meeting. Learn more about Closed Captioning.)
Recordings:  Webex recordings will now be saved to the Webex-provided cloud storage by default.
Webex Scheduler Plug-in: The Webex Scheduler plug-in for Office365 has been enabled to make booking meetings in Outlook & Outlook Web Access easier.  Learn more about the Webex Scheduler Plug-in.
One "Webex" App: There is no longer a need for two desktop applications! Previously known as Webex Meetings & Webex Teams, all functionality has now been incorporated into a single renamed "Webex" desktop application, under the previous Webex Teams icon.  The one application includes all functionality, such as hosting and attending meetings, recordings, break-out rooms, instant messaging, video/voice/phone calls, etc.  Update your Webex/Webex Teams application to enable the latest feature updates. You can proceed to uninstall the Webex Meetings application.
---
ITS has prepared a couple pages
with helpful tips and information to assist in the use of WebEx:
Including WebEx Practice Sessions, & Virtual Drop-In for Faculty, also information on download and installing WebEx, scheduling a class, sharing your screen, WebEx best practices, and finally tips on securing your Class / Personal Meeting Room.
Including tips on how to join a WebEx link that was sent to you, confirm hardware and software requirements, sharing your screen, adjust WebEx Phone-in Info, WebEx Best Practices, Secure Your Personal Meeting Room and more.
---
Webex
How do I book a meeting?
You can book a meeting in several ways:
Using the Fleming College Webex portal: https://flemingcollege.webex.com. e.g. video tutorial.
Using the Webex Meetings desktop application.
How do I attend a meeting?
Attendees can join from anywhere on any device: PC & Mac (via browser or desktop application), mobile device (via mobile application), compatible video conference unit or via telephone dial-in numbers.
Hardware & Software Requirements
Webex is available on any device in a variety of formats, but your experience and functionality level will vary depending on the capabilities of your hardware and software setup.  Below are some tips for & recommendations for various device classes.  As the organizer/presenter, practice hosting a test meeting if you are unfamiliar with the setup being used during the meeting.
Computer
Install the Webex application (recommended), or via the browser if necessary.
Connect audio speakers/headset & microphone, or dial-in with telephone conference bridge.
Connect USB video camera (optional).
Contact Fleming ITS to acquire any peripherals required for your Fleming PC.
Mobile Device
Install the Webex application.
Video Conference Unit
Several meeting room and classrooms at the College are equipment with Webex enabled video conference units.  Use BookIt to find an available room that meets your needs.
If presenting computer content, an in-room AV PC or personal laptop will be required to display PC content.  Connect the computer to the meeting using Webex Meetings or Teams.  This can be done via wireless screen-casting, or an available HDMI connection.
If attending a meeting via video conference unit, you can simply dial the meeting's SIP address, in the format of <9-digit number>@flemingcollege.webex.com
More Information
Webex Breakout Sessions
This feature allows for small group collaboration sessions within a larger meeting.  Click here to view the feature and usage overview reference sheet.  For the best meeting experience and to ensure availability of all meeting features, ensure you are running the latest version of the Webex Meeting desktop client on your personal computer. Please note, breakout session rooms currently do not have the same full feature set as the main meeting. Review the FAQ below for more details.
Breakout Session FAQ:
Q: How do I enable Breakout Sessions?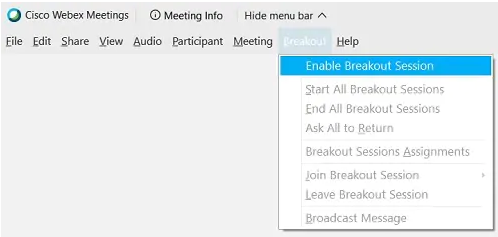 A: Within the Webex Meetings applications, on the top menu bar, click, Breakout > Enable Breakout Session.  When the breakout session feature is enabled, the Breakout sessions button appears in the meeting controls.  See more details.
Q: How do I create a breakout session?
A: See this link for detailed instructions.
Q: Is training available for this new feature?
A: Yes, there is a listing of Cisco provided live training available here. Scroll-down to find the "NEW! Using Breakout Session in Meetings" specific webinars.
Q: Can I use it in D2L?
A: Yes, if you are using Webex meetings, Breakout sessions will be available.
Q: Is this available in Webex Training?
A: No, Webex Training only supports audio-only breakout sessions, no video, and is via a different interface.
Q: Are there know limitations? (To be addressed in future releases)
A: Yes.
a) Andriod and iPhone users can't be moved or exchanged to another breakout session after the breakout sessions have started.
Q: Are there features not supported while participating in a breakout session? (To be addressed in future releases)
A: Yes, breakout sessions currently do NOT support the following features
a) Raise hand, and the note taker role
b) Closed captioning
c) Recording breakout sessions
d) High frame rate, e.g. sharing a video.
e) Sharing web browser
f) Annotation and whiteboard
g) Remote control
h) Live streaming
i) Polling
j) Saving chat
---
Webex Calling
Visit this page to learn more about making phone calls with Webex.
---
Webex Events
Webex Events is for large scale online events & presentations.  Learn more about Webex Events.  For access to Webex Events, submit a ticket to ITSupport@flemingcollege.ca.
---
Webex Training Centre
Webex Training is Cisco's learning management system for hosting live interactive training sessions that include webinar/lectures, tests and break-out sessions.
Get Started with Webex Training Centre
Manage Breakout Sessions in Cisco Webex Training
---
Webex Support
Webex Support leverages the Webex toolset to provide remote support via shared remote desktop control.  Use of this service at Fleming College is overseen by Administrative Operating Procedure for Remote Access – 6-601A.  To request use this service in order to provide a College vendor with attended access to a Fleming computer, complete the ITS Remote Access Request Form.