For more detailed look at the technology in classrooms, we would like to redirect you to the experts in all things AV for help: Check out this site from Multi Media Services for videos and manuals for how to use the Multi-Media equipment in your classroom to your advantage.
When you get there, you'll see a pretty cool instructional video done by Steve Higgs. Here is his description of how he made it: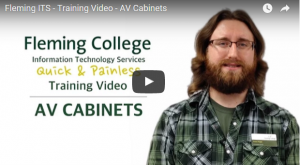 Equipment: iPhone 5 on a tripod mount. (Also, used a "Steadicam Smoothie" to achieve the orbiting video shots of each cabinet type). Sennheiser ClipMic Digital lapel mic (http://en-us.sennheiser.com/clipmic-digital-mobile-recording) iPad with "dv prompter" installed, resting inside a homemade teleprompter (cardboard box, sheet of glass at 45 deg angle and a black fabric hood to cut out reflection)

Software: "Audacity" (Open source audio editing software) to amplify and denoise the audio. Apple's "Motion" to create intro animation, custom lower thirds, animated screen with 4 orbiting videos, color keying (green-screening), as well as labels/drawing effects. Apple's Final Cut Pro to put it all together into a final product and export master files. YouTube's subtitle creator to transcribe and provide CC.

Resources: Self-taught as well as Lynda.com's FinalCut and Motion courses.
As you can see, it took a lot of work, but the final product was worth it!