So, what is digital storytelling?
Did you know that a picture is worth 1000 words? Using that math, that means a picture with 6 words on it is worth 1006 words. A picture of a picture is worth 2000 words, A one minute video with 30 frames per second is worth 180000 words (bonus words when closed captioning is on, too!) A web page with a 500 word article and a few pictures is worth 3500 words. Also, words via audio are worth words, too. GIFs also count for lots of words but no one knows for sure just how many.
The point is, everything tells a story: audio, video, text, images, images with text, videos with audio… You can even make text with little images in it if you want!  And all these things can be digital and used to liven up course pages and other online instructional spaces you use. You can use one or use them all and mix it up. Below you will see some things you can use to help tell some digital stories.
---
Videos:
Suggested starter tool combo: Your phone, Windows Movie Maker, Youtube
You probably have a video camera in your phone in your pocket. Take it out, hold it sideways, press record and film something. Send that video to your computer and open it in Windows Movie Maker, which can be found under Utilities on student computers at Fleming. You can download it at home or in your office. Once you have the video in Movie Maker, you can have fun adding a title and credits, editing clips together, adding captions and music from the Free Music Archive. You can attribute the music to its creator in the credits! And give yourself director/starring credits, too!
Example: Showing Active Learning (or not Active Learning) through video
---
Images:
Suggested starter tool combo: Your phone/CC Search, Microsoft Paint, Twitter/D2L
Here are two ways to get images that are shareable for your course page: take them yourselves, or do a Creative Commons Search. Once you have found or taken your image, it's time to get funky by adding funny words. They don't have to be funny, they can be serious or even informative. Do this by opening up the image in Microsoft Paint (in Accessories) and playing around with fonts and adding your words. Then, save it and share it through Twitter and/or add it to your course page. If you did use CC Search, be sure to give attribution to the creator of the image by linking back or generally just telling people who took the picture and where you found it.
Example: Showing (not) Active Learning with an image that we took ourselves
Or an example of showing Active Learning in an image found through CC Search then adapted (and attributed)
---
GIFs:
Suggested starter tool combo: your phone, YouTube, Giphy GIF Creator, Twitter
A GIF is like a video with set limitations. No sound, very short (a few seconds), but it loops! So, you can get a GIF from any video but you may have to worry about copyright. However, if you add something new, it's probably okay because it's a mashup. So, film something with your phone, or find a video on YouTube, copy the link into Giphy GIF Maker, add funny and/or informative words and save it and share it on Twitter and/or your course page
An example of showing active learning with a GIF.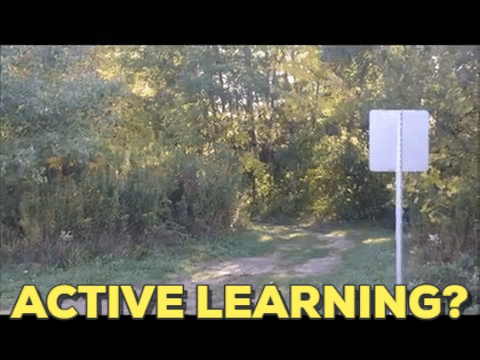 ---
Audio:
Resource: Creating a Course Podcast/Radio Show Teaching & Learning Week session
Recording
Blog Post
Google Slides

Did you know that the radio is purely, simply, just audio? And despite this appalling fact, I seem to have vivid memories of stories, hockey games & music on the radio. How is this possible? Well, it's simple, audio can trick your brain by turning sounds into thoughts and visualizations. It's messed up, I know, but let's roll with it. And a podcast is just a fancy word for making a radio show and distributing it on the Internet instead of through a radio.
You may have heard this guy's voice before as an example of what audio does to your brain.
Screenshots/Screencasts:
Suggested starter tools: Snipping Tool, Screencast-o-matic, Gyazo
You can also tell the story of how to do something on the computer by recording what you're doing and creating an image (Snipping Tool) , video (Screencast-o-matic.com) or GIF (Gyazo.com). Try it out!
---
Blog/Portfolio/Website: 
Suggested Tool Combo: WordPress and all the other tools so far.
You can house and share all of the things you create using a WordPress site. Share your thoughts, your process, your reflections and things you create all in one place. And then you can call yourself an Open Educational Practitioner and be one with the universe.
Other tools you may consider using to create your Blog/Portfolio/Website are:
tumblr
wix
weebly
Google Sites
In fact, you may want to hop over to our friends in the library and check out the resources they have put together!
An example of a WordPress blog is our Weekly Teaching Hub Posts where we share the stuff that we think is important for faculty to know in a timely fashion.