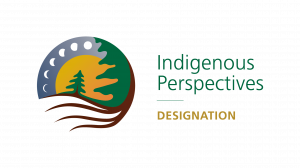 The Indigenous Perspectives Designation (IPD) provides students who choose to access this optional learning with a more in-depth knowledge of Indigenous (First Nations, Métis and Inuit) peoples, their cultures, histories, traditions and contributions to our shared society. The programs that offer the IPD as an option provide discipline-specific Indigenous curriculum in each semester, beyond what is required in the two mandatory general education subjects (GNED49 Introduction to Indigenous Studies and GNED128 Introduction to Indigenous Knowledges) as well as experiential Indigenous activities. Upon graduation, students with an IPD will have a strong foundational basis in Indigenous Studies, and a designation that will be marketable as they start their careers.
The Indigenous Perspectives Designation (IPD) is available to students enrolled in one of the following programs:

Integrated Design
Recreation and Leisure
Personal Support Worker
Fitness & Health Promotion
Esthetician
Developmental Service Worker
Conservation Biology (Fall 2022)
Earth Resource Technician
Environmental Technician
Resource Drilling Technician
Conservation & Environmental Law
Sustainable Agriculture
Applied Planning Environmental
Sustainable Waste Management
Aquaculture Foundations
Several programs are currently developing curriculum to meet the IPD requirements. A number of programs that do not offer the IPD have included the ability for students to take one or both GNED courses and some have modified their vocational subjects to include Indigenous content.
For details on the seven principles of the Indigenous Education Protocol and the IPD visit flemingcollege.ca