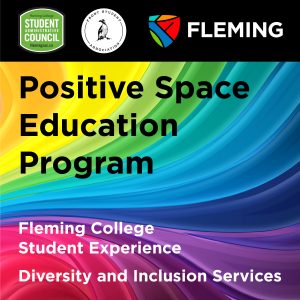 Fleming College promotes an inclusive environment where the Two Spirit, Lesbian, Gay, Bisexual, Transgender, Queer community (often represented by the acronym 2SLGBTQ+) can feel safe from harassment and discrimination. 
Positive Space is an informative, interactive program that helps students and employees to be better allies to 2SLGBTQ+ students and is Co-Curricular Record (CCR) eligible. Sessions are held regularly and promoted here on this page, via college social media and email channels. Beginning in Spring 2022, we are collaborating with a simulation-based curriculum project funded by eCampus Ontario to offer students an open-source learning activity focused on "practicing allyship". Students can work through the module at their own speed and then participate in a virtual or in person workshop to debrief the content and practice their allyship skills.
View the "Practicing Allyship" module here
Level One: 1.5 hour workshop. Learning goals: Build awareness of gender and sexuality diversity and barriers to inclusion for 2SLGBTQ+ students and employees. Before coming to the workshop, please view the first 4 modules of "Practicing Allyship" (Welcome, Terms, Exploring Identities, Importance of Language – about one hour)
Level Two: 1.5 hour workshop. Learning goals: Support the development of role models on campus who demonstrate ally behaviour, and create support networks for 2SLGBTQ+ communities both on campus and in the community. Offered in partnership with Fleming Student Administrative Council and Frost Student Association. Before coming to the workshop, please view the last 2 modules of "Practicing Allyship" (Ally Styles and Scenarios – about 45 minutes)
Level Three: 3.5 hours plus facilitation experience (not currently available, returning Fall 2022) Program objective:  Train students and employees to deliver the Positive Space Program.
For dates and registration details on this and other Diversity & Inclusion programming, please go to:
https://department.flemingcollege.ca/diversity/events-workshops/