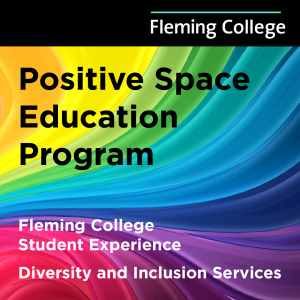 Fleming College promotes an inclusive environment where the Lesbian, Gay, Bisexual, Transgender, Two-Spirit, Queer, Questioning, and more community (often represented by the acronym 2SLGBTQIA+) can feel safe from harassment and discrimination. 
Positive Space is an informative, interactive program that is Co-Curricular Record (CCR) eligible, and valuable diversity education for your future career. Open sessions are held regularly and promoted here on this page, via social media and college email channels. Please note, certificates are no longer provided for Positive Space, just CCR recognition. 
Level One: 2 hours, interactive lecture Next available online session: Oct. 13, 2021 at 4pm
Learning goals: Build awareness of gender and sexuality diversity and create an inclusive campus for LGBT2SQ++ students and employees.
Level Two: 2 hours, facilitated case studies & role plays Next available session: November, 2021 Date TBD
Learning goals: Support the development of role models on campus who demonstrate ally behaviour, and create support networks for LGBT2SQ++ communities both on campus and in the community. Offered in partnership with Fleming Student Administrative Council and Frost Student Association.
Level Three: 3.5 hours plus facilitation experience (not currently available due to campus closure)
Program objective: Support the engagement of LGBTQ advocates both on campus by training students and employees to deliver the Positive Space Program.
For registration details on this and other Diversity & Inclusion programming:
https://department.flemingcollege.ca/diversity/events-workshops/