Welcome to the GIS Post-Graduate Programs! This site is current students' resource to the GIS Application Specialist and Cartographic Specialist programs. If you have questions, we trust you can find the answer here. Each course also has their own Desire2Learn program site which you can access once enrolled.
For 2022-2023 the program is delivered Online and In-Person, depending on the delivery version you selected.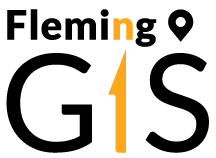 2022 Fall Information Session
We had a live orientation session in early September. If you missed this or want to revisit the presentation, the recording and slide deck are below for your review.

Slide Deck GisProgramMeetingSept2022 (PDF, 0.8mb)
Presentation Recording: https://connect.contactnorth.ca/p7uvy8oe1nec/
Tutoring & Academic Skills
The college has a great website to help you (https://fleming.libguides.com/tutoring) on:
How to book an appointment with a tutor (for any course)
In using the library, particularly being a remote/online student
Help with D2L (Desire2Learn, our Learning management system)
and other tips and tricks for being organized and ready to learn!
Part Time Options
There is a part time option where you can complete the program over two years. While we still recommend you take the program over 10 months, this might fit those who want to take things a little slower. You can find more information about this on the official program pages here:
The courses you will take must be in this order to complete the program within the timeframe:
Part Time Courses (PDF: 0.2mb)
Job Postings and Connecting with Alumni
We encourage past and current students to connect with us, and our alumni by joining:
LinkedIn group: https://www.linkedin.com/groups/7067338
Facebook group: https://www.facebook.com/groups/412268725503830/
Faculty and past students frequently post information about the field and links to open job positions and can only be seen by joining these groups.