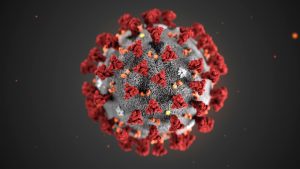 Coronaviruses are a large family of viruses that can cause illnesses ranging from the common cold to more serious respiratory infections like bronchitis, pneumonia or severe acute respiratory syndrome (SARS). Coronaviruses are spread mainly from person to person through close contact, for example, in a household, workplace or health care centre.
Some human coronaviruses spread easily between people, while others do not.
Your risk of severe disease may be higher if you have a weakened immune system. This may be the case for:
older people
people with chronic disease (for example, diabetes, cancer, heart, renal or chronic lung disease)
The 2019 Novel Coronavirus – COVID-19
The 2019 novel coronavirus (COVID-19) causes a respiratory infection that originated in Wuhan, China.
The first presumptive case of this infection in Ontario was identified on January 25, 2020.
Please access these key links below for Information

Government of Canada COVID-19 Outbreak Update
Government of Ontario – COVID-19 Summary
Peterborough Public Health COVID-19
CDC Situation Summary COVID-19
COVID-19 Assessment Center Locations
Check your test results here
Cleaning Advice
Cleaning and Disinfection for Public Settings
Cleaning and Sanitizing the Inside of your Vehicle
General Advice
Self-isolation: Guide for caregivers, household members and close contacts
Reduce the spread of COVID-19: Wash your hands
WHO – Getting your workplace ready for COVID-19
How to Shop Safely during COVID-19
Stopping the Spread of COVID-19
Infection Prevention and Control
Fleming College Updates
Updates: Fleming College Community
Protocols
Students
Students Feeling Ill or Presenting Symptoms
Students should contact their doctor, local public health unit or Telehealth Ontario (1-866-797-0000).
Students who are feeling unwell should stay home, avoid close contact with others and contact your faculty members who will work with you to ensure your continued academic success.
Employees
Employees feeling ill should seek medical advice from their doctor or the local public health unit, stay at home and avoid close contact with others. Employees should contact their manager to advise them of their status.
College-Sanctioned Travel
As previously announced, we have suspended all academic or work-related travel outside Canada for faculty, staff and students until further notice.
Personal Travel
The Government of Canada has issued an Official Global Travel Advisory. Avoid non-essential travel outside of Canada until further notice.