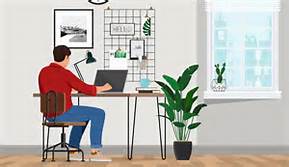 Given the immediate global response to Covid-19, many of us have very quickly shifted to a home working environment. Although these new work arrangements are considered somewhat temporary in nature, it is still wise to set-up a workspace with personal ergonomics in mind to avoid the common pitfalls that can lead to aches and pains over time.
Creating Your Well Adjusted Workspace
Choose a workspace where it is easy to concentrate. If you share a space, try headphones to help reduce distractions.

Use a variety of surfaces to create height flexibility. You may sit at a desk or stand at a counter. A height adjustable ironing board can work in a pinch. Use items such as books to raise your screen or your laptop suitable heights.

Use a sturdy chair. If you are using a kitchen or dining room chair, you can adjust it with simple household items. Consider a rolled up towel for lumbar support or use extra cushions to provide additional support.

Pay attention to your lighting. Close your curtains to reduce glare on your screen and add a task lamp to avoid eye strain.

Aim for a 90-degree angle in your hips and thighs when you sitting. Supporting your feet on an elevated surface, such as a board game box or step stool can help achieve this.
OHCOW is now offering anyone in Ontario who is currently working from home and is concerned about their workstation set-up or suffering from a Musculoskeletal Disorder, the ability to have a Virtual Home Office Ergonomic Assessment. For more information regarding this service visit OHCOWs Virtual Home Office Ergonomic Assessment page.
Great Video Resources to Assist You
Ergonomics at home
Other Helpful Video Resources
Lap top usage – easy fixes

Learn some quick and easy fixes that will drastically improve your posture while working from a laptop.

Desktop set-up

Reviewing these steps will show you how to adjust your home space to better to mimic a desktop application.
Quick Tips to Remember
 Do not work from the couch.
 Create a designated work space.
 Take micro breaks every hour (2 mins or less).
 Stretch often.
 Stay hydrated.
 Food is fuel.
 Stay in touch with your co-workers.
 Separate work time from home time.
 Limit distractions.
Stretching Resources
Working from home creates greater flexibility then can be normally achieved in an office setting. You may choose preferred clothing, customize your lighting and room temperature and take more frequent breaks during your workday. You can also add calming music or perhaps a oil diffuser to create a nice atmosphere. As you adapt to this new working environment, it is important that you give your workspace some attention and that you listen to your body to make sure that your space continues to work well for you.
If you have an remaining questions or concerns regarding your home workspace, as always, talk to your Manager.