COVID-19 (Coronavirus) Update
Get the Facts on COVID-19.
---
Released March 15, 2020
To the Fleming College Community,
Over the weekend, the COVID-19 situation has evolved rapidly and our Response Team is monitoring the changes closely. As a result of recent developments, I am writing to provide an important update regarding Fleming's response. We are putting the following measures in place to maintain the health and safety of our Fleming College community.
On-site classes are suspended. There will be no in-person classes held on any Fleming campuses for the remainder of the Winter semester.
Online and alternate delivery of courses will begin Monday, March 23. Please note that this has changed from our original announcement to allow more time to prepare for online and alternate delivery of courses.
Students are not expected to return to campus for the remainder of the semester. The semester will be completed through online and alternate delivery. Students will receive program information from their faculty by Friday, March 20. Plans to address final exams, projects and assignments are being prepared and information will be shared in the coming days.
We recognize that there will be challenges in delivering some courses in alternative formats. We will make every effort to complete the semester as best we can, knowing that there will be some exceptional circumstances.
Student placements are suspended for the remainder of the semester. Students should contact their faculty if they have any questions.
Students in residence are encouraged to return home, however residence buildings will remain open. Assistance will be provided for those requiring alternative accommodation. Further communication will be sent to students who live in residence in the coming days.
College buildings will be closed with limited access to students and employees for the period from March 16 to April 3 unless otherwise notified. Students and employees will have limited access to the buildings from 8:00 a.m. to 8:00 p.m. and will be required to sign in and out starting March 17.
On Monday March 16, employees can access the building to pick up materials and technology to support their working from home.
All employees (except noted in the following) will be expected to work from home during the period from March 16 to April 3. There will be some employees identified to provide required services. Those employees will be contacted by their managers directly. Unless they have heard otherwise, employees should assume that their attendance on campus on Monday morning is not required and they should follow up with their manager to receive directions for the remainder of the week.
Managers are expected to be at work onsite on Monday, March 16 and throughout the closure period.
Due to these exceptional circumstances, all staff (full, partial load, part time and student employees including work study students) who would normally be scheduled to work during this period will receive pay consistent with their regular schedule. No one will suffer a loss of pay of their regular earnings as a result of limiting on-site work during this time period.
On-campus recreational facilities at the Peterborough Sport and Wellness Centre and the Lindsay Recreation Complex are closed.
As per the Government of Canada travel advisory, anyone returning from any travel outside of Canada is required to self-isolate for 14 days and will not be allowed on campus.
Additional information for International students will be available on Monday, March 16.
I want to thank all students, parents, employees and community partners for their patience and understanding. We are in uncharted territory and our goal is to help stop the spread of COVID-19. I must say how impressed I have been by the response and support from our employees and partners as we rapidly develop our responses to this unprecedented health crisis and do the utmost to protect our communities. Thank you for your support.
Maureen Adamson
President, Fleming College
---
Released March 9, 2020
To All Fleming College Staff
As we continue to monitor the novel coronavirus (COVID-19) outbreak, the College is taking the precautionary step to implement a business travel restriction.
Effective immediately, we are imposing a ban on all Fleming College-sanctioned travel outside of Canada. The restriction is effective immediately and will continue indefinitely.
We recognize that this restriction may create some inconvenience, however, we have a responsibility to make every effort to keep our community healthy.
This is a precautionary measure in advance of the peak March break travel period and we will continue to monitor the situation and work with health authorities as the situation develops.
Deans and Chairs will work with students and faculty to address the financial and academic impacts on planned trips that were part of the curriculum or placements. Similarly, employees who were scheduled to travel outside of Canada for conferences, professional development or other purposes should discuss next steps with their manager.
Also, please be reminded to be vigilant with prevention steps such as frequent hand washing with soap and water, using alcohol-based hand sanitizer and avoiding close contact with others who are sick. If you feel ill, please seek medical assistance as soon as possible.
At this time, there are no presumptive cases of the virus at Fleming College. We will continue to provide updates here: flemingcollege.ca/coronavirus .
Sincerely,
Maureen Adamson
President, Fleming College
---
Released January 27, 2020 12:00pm
There has been heightened media attention about the COVID-19 (Coronavirus) . If you have questions about this virus, we encourage you to visit the Public Health Ontario more information and updates.
Fleming College, along with other institutions and organizations across Canada continue to monitor the situation and will follow recommendations from public health authorities.
Updates will be provided to the campus community if needed.
About the COVID-19 (Coronavirus)
COVID-19 typically affect the upper respiratory tract and can cause the common cold and pneumonia. In some cases, the virus can cause more severe symptoms.  More information on the new coronavirus and its symptoms are available from the Government of Canada.
What to do if you feel sick.
As during any flu season, if you feel sick, follow the usual best practices:
Stay home.
Avoid close contact with others.
Cover your mouth and nose with a tissue when you cough or sneeze and then throw the tissue away and wash your hands, or cough/sneeze into your elbow.
Wash your hands often with soap and water.
If your symptoms escalate, contact your health-care provider or visit the Campus Health Centre.
Prevention.
There are steps you can take to prevent the spread of viruses.
Wash your hands often with soap and water.
Don't touch your eyes, nose or mouth with unwashed hands.
Avoid sharing personal items.
Clean hard surfaces in shared spaces with disinfectant.
Avoid close contact with people who are sick.
---
Released April 30, 2019
Responding to Scent-Related Questions in the Fleming Workplace
Fragrances are found in a wide range of products, including perfume, cologne, deodorant, soap, shampoo, hairspray, air fresheners, essential oil room diffusers and cleaning agents. Exposure to fragrance chemicals in scented products can trigger health reactions in some individuals with conditions such as asthma, allergies, migraines, or chemical sensitivities. The guidelines below are intended to provide some steps for responding to scent- related issues in the Fleming work and learning environment.
If you use scented products:
Use them sparingly. A general guideline is that the scent should not be detectable more than an arm's length away from the
Consider using unscented
If you experience health effects or discomfort from exposure to scented products:
If the source of your symptoms is isolated to a specific scent or individual, approach the individual if you feel comfortable doing so. Let them know in a cordial and respectful manner that you react to fragrances and describe the types of symptoms you experience. Ask for their understanding and cooperation in avoiding or minimizing the use of the
If you are uncomfortable approaching the fragrance user, if the user continues to use the fragrance after you have talked to them, or if the scent issue is more generalized, inform your supervisor about your concerns. Discuss options for dealing with the issue. Ask them to discuss the matter with the individual, the work group or the class, asking for their cooperation in not using or minimizing their use of scented
Consult with your physician about your
Consult with Fleming resources, such as the Student Services, the Health & Safety web
If you are a supervisor and are approached by an employee about scented product concerns:
Be open with and respectful to the individual who comes to you with information that he/she is sensitive to scented products. Clarify the issue as to the type of products, the health reaction and whether the individual has consulted a physician about their symptoms. You may request that the individual provide you with supporting medical information from his/her
Use good judgment to provide an appropriate and timely resolution. Look at measures to reasonably accommodate those who are affected by scented products. Depending on what is appropriate to the circumstances, this may range from a request for individuals to voluntarily cooperate in establishing a scent-reduced environment, to a possible relocation of a person who is being affected by scented products.
Decide whether you should discuss the issue with an individual or an entire group. Discuss the issue in an open and non-threatening manner. Focus on the potential health concerns associated with fragrance chemicals, and the types of actions individuals can
Consult with Fleming resources, such as Student Services or the Health & Safety web
If you are approached about the scented product you wear:
If an employee, student or supervisor informs you that the scented product that you use is a concern to others and asks that you reduce its use, or not use it at all, you may initially feel hurt, upset, puzzled or annoyed. Focus the conversation, in an open and respectful manner, on the issue of fragrances, and the chemicals in the scented product. Discuss the issue openly, and work with cooperation and understanding towards a satisfactory
---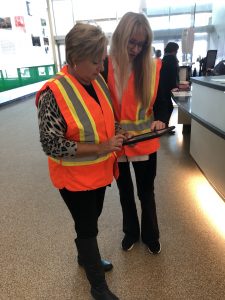 ---
Health and Safety Alert
With winter finally upon us, the Dept. of Health & Safety would like to provide a few tips to maximize safe winter walking while on campus.
Safe Winter Walking Tips: 
Wear proper footwear. Proper footwear should place the entire foot on the surface of the ground and have visible treads. Avoid a smooth sole and opt for a heavy treaded shoe with a flat bottom.
Plan ahead. While walking on snow or ice on sidewalks or in parking lots, walk consciously. Instead of looking down, look up and see where your feet will move next to anticipate ice or uneven surface. Occasionally scan from left to right to ensure you are not in the way of vehicles or other hazards.
Use your eyes and ears. While seeing the environment is important, you also want to be sure you can hear approaching traffic and other noises. Avoid listening to music or engaging in conversation that may prevent you from hearing oncoming traffic or snow removal equipment.
Anticipate ice. Be wary of thin sheets of ice that may appear as wet pavement (black ice). Often ice will appear in the morning, in shady spots or where the sun shines during the day and melted snow refreezes at night.
Walk steps slowly. When walking down steps, be sure to grip handrails firmly and plant your feet securely on each step.
Enter a building carefully. When you get to your destination such as school, work, etc., be sure to look at the floor as you enter the building. The floor may be wet with melted snow and ice.
Be careful when you shift your weight. When stepping off a curb or getting into a car, be careful since shifting your weight may cause an imbalance and result in a fall.
Avoid taking shortcuts. A shortcut path may be treacherous because it is likely to be located where snow and ice removal is not possible. Please stay on designated paths.
Look up. Be careful about what you walk under. Injuries can also result from falling snow/ice as it blows, melts or breaks away from awnings, buildings, etc.
If you have any questions about safe winter walking on campus, please reach out to safety@flemingcollege.ca.