Cleaning and Disinfection Protocols
The College is following cleaning and disinfection control measures provided by Public Health Ontario. These measures, at a minimum, require cleaning and disinfection of all common touch surfaces in work areas twice per day. In addition, our contracted custodial vendor has increased the daily cleaning of washrooms and will regularly clean and disinfect all high touch areas such as elevator buttons, entrance doors and front-facing service areas lobbies and common areas of the workplace.
All cleaning supplies meet the requirements of Health Canada for infection control measures. Disinfecting wipes and contact spray will be provided to departments for daily use. All supporting SDS information is posted below. Any concerns related to cleaning procedures should be directed to the Physical Resources Department using the PRD work order system.
Self Serve Products
In order to help maintain a clean and sanitary campus, Physical Resources has made a number of products available for self-serve use around the campus. You will see a number of these products  available to the Fleming community for use around campus. Please submit a Work Order should you required replenished stock or call x 8000 if you notice a communal supply running low.
Click product pictures for Safety Data Sheet access.
Custodial Sanitation Products
Custodial staff are using the following disinfectant products, including ready-to-use sprays, concentrates, and wipes. Each product has been shown to be effective against viruses that cause COVID-19. Listed below are the associated safety data sheets for all approved products. Our Custodial Contractor will also adhere to all public health guidelines for the cleaning and sanitation of public buildings.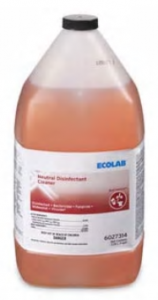 ES15
ServClean – Gel Hand Sanitizer
CERTAINTY DISINFECTANT WIPES PLUS – COVID-19
QC 50 ULTRA CONCENTRATED GLASS CLEANER
QC 34 HIGH PERFORMANCE ULTRA CONCENTRATED NEUTRAL FLOOR CLEANER
Additional Information for Cleaning and Disinfecting

Cleaning and Disinfection for Public Settings
Cleaning and Sanitizing the Inside of your Vehicle
AV Equipment Cleaning Checklist