Welcome!
Career Services is pleased to offer employers free employment services including the
ability to post jobs and volunteer opportunities to Fleming students and graduates.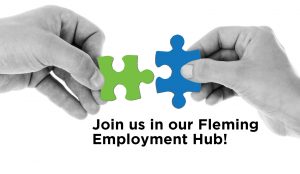 Fleming Employment Hub
Our Fleming Employment Hub is a one-stop community for employers and job seekers. With a free account, you gain access to employer-related courses and employment resources and use our job posting tool that will match you to job seekers that match your job profile.  Register here for a free account!
Free Employer Courses
We offer employers a series of short online courses in our Hub that will help build strong community workforces. Course length varies from 4 minutes to 40 minutes. Watch for new courses. View our training library.
Post a Job
Our new Fleming Employment Hub, powered by Magnet, is where you can post jobs and receive applications from  Fleming students and graduates. Jobs can be posted as full-time, part-time, co-op, seasonal, or contract roles.
To post a job, you will need to create a free Employer Account in our Hub. Employers registered on our previous job posting platform will still need to create a new account in the Fleming Employment Hub.
STEP BY STEP INSTRUCTIONS
We offer more free employment services for employers through Fleming Career Services.

On-Campus Recruiting
On-Campus Interviewing
Annual Job Fair
Part-Time Job Fair
Volunteer Job Fair
Information Sessions
For services, please contact our Employer and Student Career Liaison, Joanne Duffy:
Phone: 705-313-6177     |     E-mail: joanne.duffy@flemingcollege.ca
Have a question? Please drop us a note!