Return to Communities Main Page
The Haliburton Highlands are located just 2.5 hours away from Toronto. Throughout the county, you will find over 600 clear lakes, rivers and streams, wildlife and breathtaking scenery. There is something for everyone in the Haliburton Highlands.
Fleming College's campus is located in the Village of Haliburton, approximately one and a half hours from our main campus in Peterborough and from our Frost Campus in Lindsay.
The village of Haliburton & Haliburton County
– Official website
– The County is comprosed of many communities, with a total population of approximately 18,062 (2016 Census)
– Newspapers = The Haliburton Echo and many of the communities publish small independent newspapers.
Maps of Haliburton and surrounding areas.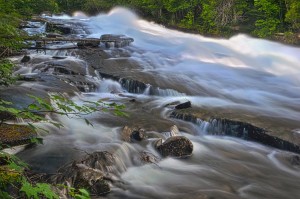 Buttermilk Falls, Haliburton, Ontario
 ** External links are being provided as a convenience and for informational purposes only; they do not constitute an endorsement or an approval by Fleming College of any of the products, services or opinions of the corporation, organization or individual. Fleming College bears no responsibility for the accuracy, legality or content of any external site.