There is an abundance of sporting, expressive arts and recreation opportunities in all of our communities for all genders and ages. To find a sporting/expressive arts club in your area, a simple search on the internet will give you listings of clubs ranging from recreational to rep. The following recreation guides and links from our communities are also an excellent source of information;
Athletic Facilities
 Trails
There are many trails in our beautiful region, so whether you choose to explore on foot, ski's, or by water, there are an abundance of options to satisfy all tastes. Below are some links and resources to assist in your search.
 Additional Outdoor links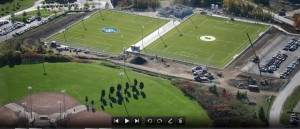 Fleming College Sports Field Complex
photo courtesy of Fleming College Marketing department
** External links are being provided as a convenience and for informational purposes only; they do not constitute an endorsement or an approval by Fleming College of any of the products, services or opinions of the corporation, organization or individual. Fleming College bears no responsibility for the accuracy, legality or content of any external site.