Return to Communities Main Page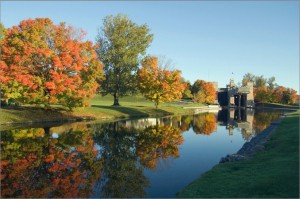 Peterborough Lift Lock
photo by: Rick Manning
Fleming College Employee
The City of Peterborough is located on the Trent-Severn Waterway in the heart of the Kawarthas tourism region. We are a little more than one hour to Canada's largest market, Toronto. Peterborough has an abundance of activities to offer, from beautiful parks and trails to fine dining establishments.
The City of Peterborough 
Official website
Peterborough City has a population of approximately 81,032 (2016 Census)
Newspapers = The Peterborough Examiner  & the Peterborough This Week
Trent Severn Waterway = This video shows aerial  drone footage of several locks in the Trent Severn Waterway
County of Peterborough
Official website
Peterborough County is divided into 8 Townships, with a population of approximately 54,870 (2011 Census)
Newspapers = many of the townships publish small independent newspapers.
Maps of the City of Peterborough and County Townships.
Other Area Links:
– Kawarthas/Northumberland website
– Peterborough & the Kawarthas
** External links are being provided as a convenience and for informational purposes only; they do not constitute an endorsement or an approval by Fleming College of any of the products, services or opinions of the corporation, organization or individual. Fleming College bears no responsibility for the accuracy, legality or content of any external site.