On this page you'll find information on: 
What are Indigenous Perspectives?
Indigenous perspectives share with learners' aspects of Indigenous people's knowledge, perspectives, and experiences and our shared history and experience as individuals living in Canada, through their inclusion into the learning content, design, and delivery of a course or program of study.  
Indigenous perspectives use Indigenous peoples' ways of knowing and ways of living in the world that include, among other things, ecological ways of knowing, histories, identities, cultural practices and traditions, languages, community engagement, governance, and community dynamics.   
Fleming College's Indigenous Perspectives and Program Teams are committed to providing high quality and vocationally specific education that draws upon the CiCan Indigenous Education Protocol, the Truth & Reconciliation Commission's Calls to Action and the United Nations Declaration on the Rights of Indigenous People. 

How can I start incorporating Indigenous perspectives?
"Two eyed seeing is to normalize Indigenous knowledge in the curriculum so that both Indigenous and conventional perspectives and knowledges will be available – not just for Aboriginal peoples, who would be enriched by that effort, but for all peoples." – Marie Battiste 
Incorporating Indigenous perspectives into your curriculum begins with critically examining the frame of reference through which traditional curriculum and learning activities have been designed.  
Educators must then decide when, where, and how to encourage learners to explore the histories, cultures, languages, contributions, perspectives, experiences and contemporary contexts of First Nations, Métis and Inuit peoples while engendering knowledge, understanding and respect. 
(source: Alberta Regional PD Consortium – WEAVING WAYS INDIGENOUS WAYS OF KNOWING IN CLASSROOMS AND SCHOOLS)
With this in mind, The Weaving Ways framework can be used as a structured process through which to examine existing curriculum and learning activities and incorporate Indigenous perspectives. With four interrelated quadrants, educators can utilize this framework to organize their thinking and approaches.  
The structure supports teachers in designing meaningful teaching and learning opportunities that weave together Indigenous ways of knowing with Western pedagogical practices for the benefit of all students and our collective journey towards reconciliation. 
Effective education that includes Indigenous knowledge systems does not exclude or discredit other cultures, but instead ensures that both non-Indigenous students and Indigenous students alike are given the opportunity to see Indigenous perspectives, and the strengths and gifts of the First Peoples reflected in the program of study.  
The weaving together of Indigenous knowledge with Western pedagogical practices is coined by scholars as trans-systemic synthesis (Battiste, M. & Henderson 2000).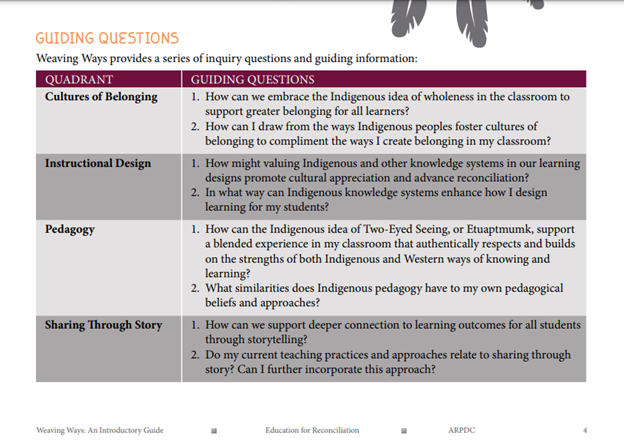 (Accessible version and source: Alberta Regional PD Consortium – WEAVING WAYS INDIGENOUS WAYS OF KNOWING IN CLASSROOMS AND SCHOOLS.)
 Incorporating Indigenous Ways of Knowing  
An instructional design that values Indigenous ways of knowing includes the following mindsets (excerpt from The Weaving Ways framework, p. 8): 
1. Holistic: Consider approaches that appeal to whole person learning. Holistic approaches recognize that learners find meaning through connection to the community, the natural world and to spiritual values. Whole person learning provides "opportunities to develop over time and across interconnected learning domains: intellectual, physical, social, spiritual and emotional." (p. 25, Guiding Framework, 2016) In the Indigenous context, this includes teachings connecting learners to place through content.
2. Collaborative: Create an extended family of learning to support and enrich concepts. Who else can add perspectives and enrich concepts from the community? Also, how can students support one another in learning? Designing opportunities for both classroom small group and large group collaboration, as well as community collaboration increases and supports connectedness to learning. 
3. Relational: Support students in connecting content to their personal reality through story, artifacts, personal reflection, comparative tasks, and experiential or place-based learning. As Dwayne Donald, descendent of the Papaschase Cree noted, "What we want to learn cannot be separated from the processes we go through while learning. For teaching and learning to be meaningful, we need to see ourselves in ecological relation to that which we want to know. Relations always come first." (Donald, 2011). We are all in relation to one another and to the events and objects in our world and the spiritual world. 
As a starting point you could: 
Start the

class

by acknowledging the Traditional Owners of the land

where Fleming is situated

.

For example: "Fleming College respectfully acknowledges that it is situated on the traditional lands of the Michi Saagig peoples and within the lands covered by the Williams Treaty. Peterborough, Lindsay, Haliburton and Cobourg campuses are home to a large and growing First Nation, Inuit and Metis population as well as diverse Urban & Rural Indigenous communities."
Find out how to say hello or good morning in the local language and

use it to

greet your students

at the start of

each class

. For example:

She:kon! Kwe kwe! Tansi! Taanishe! Or Boozhoo!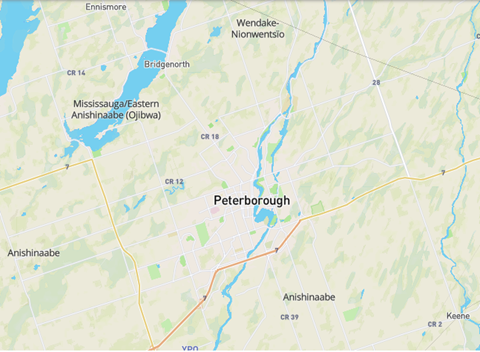 (source: https://native-land.ca/.) 
Acknowledge key

concepts or events that are relevant to your course's subject matter

from an indigenous perspective.

 

Critically discuss

current issues, trends, and/or

media

from both traditional and Indigenous

perspectives.

Encourage everyone to respect each other's views and consider them.

 

Include some

Indigenous

resources in your

learning materials

–

infographics

, books,

academic articles

,

and

art

by Indigenous creators

. 

 
For specific strategies on incorporating Indigenous informed learning activities into your course, read: The Weaving Ways framework.

Resources