Classroom community and classroom management are two sides of the same coin. When the classroom community is strong with things like clear roles and responsibilities, respectful relationships, positive expectations and equitable consequences, often discipline issues are minimized.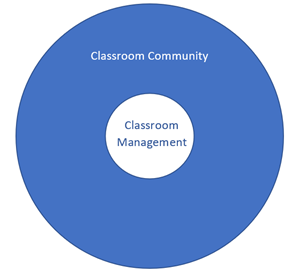 On this page, you'll find information on: 
If you can't find what you are looking for, please reach out to us by email: LDSTeam@flemingcollege.ca 

Building Classroom Community
Promote a Positive Classroom Climate
Set the tone

:

As the instructor, you can model the actions and attitudes you want in your class – share your enthusiasm, respect for others, and civility.

 

Co-create expectations

:

On the first day of class, facilitate a discussion with your students specifically to identify positive

behaviours

and expectations that will help students feel safe, accepted, and valued. 

 

Consider creating a "Classroom Guidelines" list to post on your

D2

L course page

that you (and your students) can refer to during the

semester

. This item may be of even greater importance for fully online classes, as engaging in a more formal, academic environment online may be new to some of your students.

 

Respond

:

Seek feedback from your students throughout the term, and promptly address any issues if they arise.

 
Stimulate Student-Student Interactions
Plan an Icebreaker

:

On the first day of class (and perhaps throughout the

semester

), facilitate an activity that has students get to know one another in a fun, creative, relaxed way. 

 

For a large class, students can still introduce themselves and get to know those who sit around them. 

 

For an online c

ourse,

get creative with the technology tools that allow students to interact with one another. Consider a

Flipgrid

video introduction

.

 

Build interactivity into learning activities

:

Working collaboratively not only keeps students engaged, but also allows students to learn more deeply, provide one another with feedback, and challenge one another. 

 

For an online class, explore the many interactive technology tools available to reach specific learning outcomes. 

 

For a large class, have students explain a solution to their partner prior to sharing a solution yourself.

See

High Leverage Teaching Practice

for more ideas.

 

Build interactivity into assessments.

Would your students benefit from providing one another with feedback? Collaborating on a group presentation? Tapping one another's experiences? Create opportunities for your students to work together to create something great.

 
Engage with Students
Be personable and approachable

:

Let students know how they can contact you. Chat with your students before/during/after class. Show your students you care. For an online c

ourse

,

use

audiovisual interactions so students can see and hear you, rather than only reading your text.

 

Use student names

:

Learn your students' names as quickly as possible (ask for their preferred name and pronunciation) and use them regularly. 

 

For face-to-face classes, c

onsider using name tents to learn student names.

 

Accept questions

:

Make space for your students to ask questions and take action to respond to these questions. 

 

For an online course, consider creating a forum where students can ask questions and receive a response from you or their peers. 

 

For a larger class, use

formative assessment

tools

to gauge where students are struggling, and come back to the next class with extra support.

 
Things to Consider Saying Before the End of Your First Class
You can find some ideas for building classroom community and setting expectations on our tip sheet: Things to Consider Saying Before the End of Your First Class. 
Classroom Management
Even in the most harmonious classroom communities, classroom management and student discipline can become something that faculty need to address and resolve.  
4 Key Aspects of Effective Classroom Management
1. Use of Rules and Procedures
These are the routines and behavioural expectations for everyone in class. 
Identify specific rules and procedures for your classroom (whether virtual or face-to-face): 
General classroom

behaviour

;

 

Beginning and ending of class

routines

;

 

Transitions and interruptions;

 

Use of materials and equipment;

 

Group work

(including virtual breakout rooms)

;

 

Seatwork and teacher-led activities.
Involve students in the design of rules and procedures. 
2. Building Relationships with Your Students
Relationships are the foundation of effective learning environments and well-managed classrooms. 
Use specific techniques to establish your leadership and confidence in the classroom: 
Exhibit assertive, but not aggressive,

behaviour

(i.e. making and keeping eye contact, facing the student, keeping a tall posture, aligning facial expression to reinforce the key message);

 

Use appropriate tone of voice; speak clearly and deliberately; avoid indications of emotions;

 

Persist until the appropriate

behaviour

is displayed: don't ignore inappropriate

behaviour

;

 

Establish clear learning goals and assessments.

 
Use specific behaviours that communicate an appropriate level of cooperation: 
Provide flexible learning goals;

 

Take a personal interest in students;

 

Foster equitable and positive classroom

behaviours

;

 

Respond appropriately to student incorrect responses. 

 
3. Use of Disciplinary Interventions
Disciplinary interventions are responses to students when their behaviour does not meet classroom expectations. Employ specific techniques that acknowledge and reinforce acceptable behaviour and acknowledge and provide negative consequences for unacceptable behaviour: 
Teacher reaction or response

 

Tangible recognition

 

Direct cost

 
Establish clear limits for unacceptable behaviour and an effective system to record these behaviours. 
4. Mindfulness and Awareness of the Learning and Social Environments
Be aware of surroundings, quickly and accurately identify problems, and address them. 
Heighten awareness of the actions of students in your class;

 

Respond immediately;

 

Forecast problems;

 

Reframe problems so they're not personal;

 

Monitor your own thinking and mindset;

 

Take care of yourself. 

 
(Source: Marzano, R.J. (2003). Classroom management that works: Research based strategies for every teacher. Alexandria, VA: ASCD.)


Difficult Conversations with Students
This article from Faculty Focus has some suggestions for difficult conversations with students: 7 Bricks to Lay the Foundation for Productive Difficult Dialogues