Persons with disabilities or anyone with limitations that may result in difficulties with evacuating a building in an emergency should make efforts beforehand to identify accessible evacuation routes and refuge areas near the locations they will be attending.
At Fleming REFUGE AREAS have been designated for those who may require help evacuating or other assistance during an emergency situation. These areas are identified by signs, using the graphic seen below, and an alert button on the wall.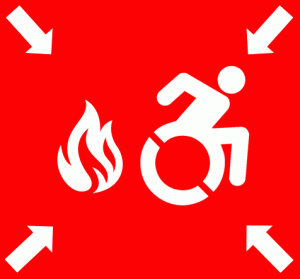 View a Map of Refuge Areas for Sutherland Campus
Below is a list of Refuge Areas:
Sutherland Campus Locations:

A1 Level – in stairwell by room A1-111

A3 Level – in stairwell by room A3-140

B3 Level – inside classroom B3-101

B3 Level – inside classroom B3-155

B3 Level – inside classroom B3-181

B2 Level – In stairwell by room B2-153

B2 Level – on the wall beside B2-375

C0 Level – inside classroom C0-119

C1 Level – in stairwell by room C1-306

Lower C2 Level – on wall across from room C2-129

Upper C2 Level – In stairwell on North East corner of LRC

Frost Campus Locations:

Near room 127 – Lower East Stairwell

Near room 150 – Lower Accessible Exit Near Ramp

Near room 189 – Lower Career Services Stairwell

Near room 194 – Lower West Stairwell

Near room 211 – By Patio Exit Doors

Near room 226 – Upper East Stairwell

Near room 280B – Upper Tunnel Exit

Near room 289 – Upper Career Services Stairwell

Near room 294 – Upper West Stairwell

Frost Student Association Office
Evacuation Guidance
Upon fire alarm or notice to evacuate, persons who are unable to evacuate without assistance:
If located on a floor with an accessible exit, use the nearest safe and appropriate exit (ground level, wheelchair ramp etc.) * Refer to evacuation maps in classrooms to identify exits *
If located on a floor with no accessible exit, proceed to the nearest refuge area.
Press the button located at the refuge area to alert responders to your location.
Remain at that location, as long as it is safe to do so, until responders arrive.
Either College security personnel or other first responders will attend your location to assess the situation. Evacuation will occur if there is a danger to life safety.
Please be aware that in the vast majority of alarm or alert conditions, refuge areas are the safest place to wait. Many alarm or alert conditions arise that may not warrant taking the risks associated with evacuation. Evacuation may not occur unless it is determined that the circumstances pose a life safety risk.
Following a fire alarm or notice to evacuate, which does not necessitate the evacuation of persons with disabilities, security personnel will check all reported locations to ensure all such persons are advised the situation is over.
Assisting Persons with Disabilities
During an emergency, all members of the college community are strongly encouraged to assist persons who might require help.
Some examples of things that might cause an individual to require assistance are:
visual impairments (reduced vision or blindness)
hearing impairments (some degree of hearing loss or deafness)
mobility impairments (I.e. those who use walkers, crutches, motorized scooters, wheelchairs, canes or other devices)
other conditions that create functional limitations
College staff or others who are assisting a person with a disability should not attempt to evacuate the person with a disability from a refuge location without the assistance of fire emergency personnel except where there is an immediate threat to life safety.
Additional Information
Emergency Preparedness Guide for Persons with Disabilities