Many of the resources available to you through Shepell-fgi.

   Online Access offers a whole new way to learn about and gain access to many Employee and Family Assistance Program (EFAP) support services available.  Online Access offers you, and your family members who are residing in Canada, a simple, step-by-step process to initiate and complete an EFAP support service request.

  First Chat users will connect instantly with a Counsellor and will experience immediate support for work, health and life issues. Secure and confidential, First Chat provides real time online conversation with a Counsellor when employees need it most; no delays and no appointments needed.

 E-Counselling is a professional, confidential counselling service available online through your EFAP. The service allows you to connect with a counsellor from any computer with Internet access. This short-term service is an effective means of addressing personal issues through written messages to and from your E-Counsellor. You can post messages at any time of the day or night, from anywhere in the world.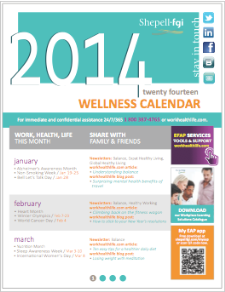 Wellness Calendar – The calendar is interactive and features more EFAP resources than ever before for your workplace, employees and their family members! (click on calendar icon to follow link & calendar is at the bottom of the page (under Read more))

Orientation Videos – The Shepell·fgi Manager Orientation (MO) and Employee Orientation (EO) videos are now available in Windows Media Player format.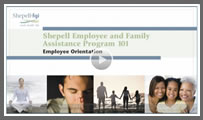 Employee Orientation – The Shepell·fgi Employee Orientation Videos offer a great way to learn about the key features of your Employee Assistance Program. Topics include confidentiality and how we can help with any concern. You will discover the range of counselling options and work/life support services available to you and your family.  Log in & go to "My Services  – About my Services – Employee Orientation Videos"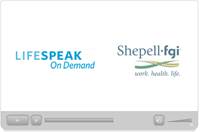 Manager Orientation – The Shepell-fgi Manager Orientation Videos offer a great way to learn more about the interconnections of work, health and life, and the challenges that can arise in the workplace as a result. The video series will guide you through signs of a troubled employee along with a simple step-by-step on how to effectively address sensitive situations, and concludes with the specialized support available to you as a People Leader via your Employee and Family Assistance Program (EFAP). (Manager Orientation Video series is only available if you have registered as a Manager)